Overview
Bali half day Ubud Tour is one of the most famous Bali Sightseeing Tour in Bali Island for Short Trip to visit Interesting Places in Ubud Village. This tour is also become a very favorite tour so far and will visit tourist destination in Ubud village such as Celuk Village is a traditional village with famous gold and silver handicraft, then tour will visit the Batuan Temple is a local Balinese Hindu temple looked after by the local people.
And then visit Ubud Monkey Forest is a small rain forest dwelt by some group of monkeys and other tropical animals and the last visit will be Ubud Royal palace. The Ubud Tour is very exciting to explore the traditional village with it social activities and culture from the local community. It is wonderful short trip to the Balinese life with full of culture and art. Here is the place of interest to see during the tour.
PLACE OF INTEREST TO VISIT DURING THE BALI HALF DAY UBUD TOUR
BALI TRADITIONAL CELUK VILLAGE.
There are a lot to see around Celuk Village, as well as the shopping opportunities and the culture of the area is fascinating and relaxing to see where the pace of life is slow and you will find some interesting characters and plenty of places to try the local and international dishes meanwhile enjoying the view of rice field and the farmers activity.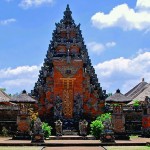 Bali Batuan Temple
BALI BATUAN TEMPLE
bali Batuan-TempleThis Bali Batuan temple is a village temple and looked after by the local people in Batuan countryside. The temple is designed full of Balinese ornaments and the roof temple building is made from the fiber of chromatic black palm tree make this temple looks very beautiful to see.
It is strategically located beside of the main road from Denpasar to Ubud. For over a thousand years, Batuan has been a village of artists and craftsmen, old legends and mysterious tales.
BALI UBUD MONKEY FOREST
Bali monkey-forest-Have you heard about it ? Bali Ubud Monkey Forest is located in the center of Ubud village where most of the tourists like to see while they are in Ubud.Bali Ubud Monkey Forest is a small rain forest dwelt by some monkeys and other tropical animals. In Balinese language, monkey forest called Wanara Wana also written on the entrance gate before you enter it. So Bali Ubud Monkey Forest is very important function of the continuity the monkey habitat in Bali. Because of that the local community make important role to keep this forest naturally.
Ubud Royal Palace
BALI UBUD ROYAL PALACE
Ubud-royal-palace-Bali Ubud Royal Palace or Puri Saren Ubud is an Ubud Kingdom Palace with beautiful Balinese traditional houses as a residence King of Ubud. It is located in the center of Ubud Bali with traditional art market just in front of this palace and it is found by Ida Tjokorda Putu Kandel and he has commanded from year 1800 – 1823. Bali Ubud Royal Palace is an artistic cultural life center, with the traditional market is the symbol of local economic resident.
The existence of Ubud Royal Palace as a palace is equipped by an auditorium that is a large building of meeting room or in Balinese we call it Wantilan, and a banyan tree as shelter place at the daytime. The traditional market is the place of society economics and its existence is always border on palace as artistic cultural life center in Ubud. It means that the both pole meeting is describing the dynamics of kingdom life and society.
Itinerary
12:00 – Pick up from hotel
13.00 – Visit Bali Celuk Village
14.00 – visit Bali Batuan Temple
15.00 – visit Ubud Monkey Forest
16.00 – Visit Ubud Royal Palace
17.00 – Visit Ubud Art Market
18.00 – Back to Hotel
Inclusions
- Private car hotel transfer
- English speaking driver
- Parking fee
- Fuel
* Pick up areas need further confirmation about place and time