Again Banyuwangi is not only about visiting Kawah Ijen, there are many places to explore. Baluran National Park is one of the must visited place while you are in Banyuwangi. As one of the national parks in Indonesia, many visitors are amazed. The reason is that this national park actually has natural riches that make you think of the African grasslands.
That is why the national park is nicknamed Africa Van Java. Apart from offering the green of the Savanna Field, this tourist spot also has many beautiful spots that make you even more comfortable exploring this tourist area. Instead of being curious about what you can do while on holiday in Baluran, here is information on interesting spots at Baluran National Park :
1. Goa Jepang
An interesting part of Baluran National Park is the Japanese Cave. This cave is a historical heritage and is also the entrance gate to this National Park. Many visitors flock to this East Java tourist spot because it does more than just provide natural views.
If you look at history in 1980, the national park was officially one of the tourist destinations with historical heritage, namely the Japanese Cave. The existence of this cave is also clear evidence that Japanese colonization once occurred in the area. The area of the cave is 12 square meters, which was used as an ammunition storage area and also as a defensive fort for the Japanese army.
If you enter the Batangan area, namely the first post, then you should not miss the existence of this beautiful cave which is in the area in front of the Baluran National Park office.
2. Evergreen Forest
The interesting part of the Evergreen Forest in this national park that you can explore the forest area using a road that looks like a green tunnel. This is the only way to get to Padang Savana and the road was getting better even you can go with SUV car to get in to the national park.
So during your visit to the Evergreen Forest, you will enjoy green views. So many tropical trees also provide comfortable homes for various animal species. Especially if you visit from January to February, this forest has extraordinarily beautiful views. It was proven that there were a group of butterflies in puddles of water around the forest.
3. Savana Bekol
Now that you have passed the Evergreen forest in Baluran which covers an area of many kilometers, you can explore further the next area, namely Savana Bekol. It can be said that Savana Bekol is the main spot that is the attraction of this tourist spot. In fact, because of Savana Bekol's beauty, a seasoned singer like Raisha chose Padang Savana Bekol as the backdrop for the video clip for the song she released.
While you are in Padang Savana, you can capture various photos of natural scenery. For example, large trees in the middle of grasslands, mountain backdrops and also wildlife which make the spot even more fun to take photos. You can also enjoy green views during the rainy season. However, if you visit during the dry season, you will be presented with a view of the Baluran grasslands which look withered.
4. Dead Animals Head
One of most popular photo spot in Baluran is the dead animal head that are hanged under the bamboo hut. Located just few meters from Savanna Bekol, this photo spot make us like in real African. These animal heads were bulls and buffaloes that lived in Baluran. The park officers collected them one by one and hang them on the hut.
5. Observation Tower
Don't miss out to stopover at observation tower. The reason is, this beautiful place allows you to enjoy the view from a height, how the grasslands look so beautiful and beautiful. Not to mention that the viewing tower is specially designed to help visitors observe all the wildlife in the Bekol Savana.
There are many sights that you can see regarding wildlife. For example, jungle fowl, deer, deer, peacocks, wild buffalo, and wild bulls. You will even be presented with views such as wild deer running around with their hordes. Of all the animals, some are threatened with extinction. So, it is hoped that visitors will have high awareness and concern for the environment. This will help preserve the natural ecosystem in Baluran.
6. Bama Beach
Tired of traveling around the grassland area and want to try to find other peace while in Baluran? You can visit one of the most popular spots in this tourist spot, namely Bama beach. Only 3 kilometers from Savana Bekol, you can enjoy the view of this beach. What makes Bama beach so popular with visitors is that it is a beautiful and unique place. In fact, its existence is becoming increasingly well known, even though currently the beach is still inadequate for the facilities needs of visitors, such as signals or electricity.
This beautiful beach is still very natural, although there are several accommodations that will help make your holiday more enjoyable. This is because the location of the accommodation is not far from Bama beach. Moreover, you can also enjoy the sunset by sitting facing the beach. That's why accommodation in the Bama Baluran beach area is always busy with visitors.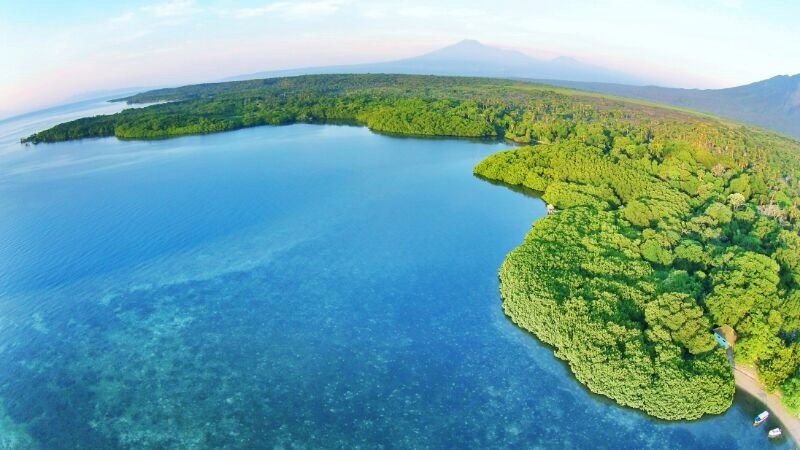 Clean water at Bama Beach from above using drone photo
7. Mangrove Trail
Not only does the stretch of white sand still look clean, Bama Baluran beach is even one of the most visited tourist attractions. This is because there is another spot, namely Bama Mangrove Pier. Usually visitors like to take photos while on the pier. Bama Mangrove Pier is located about 100 meters from the beach towards the south. If you want to go to the pier, you must first pass the path in the mangrove forest. From the small pier, you will find views of the sea and there are also well-maintained mangrove plants. This spot is not only beautiful but also very famous as a romantic spot.