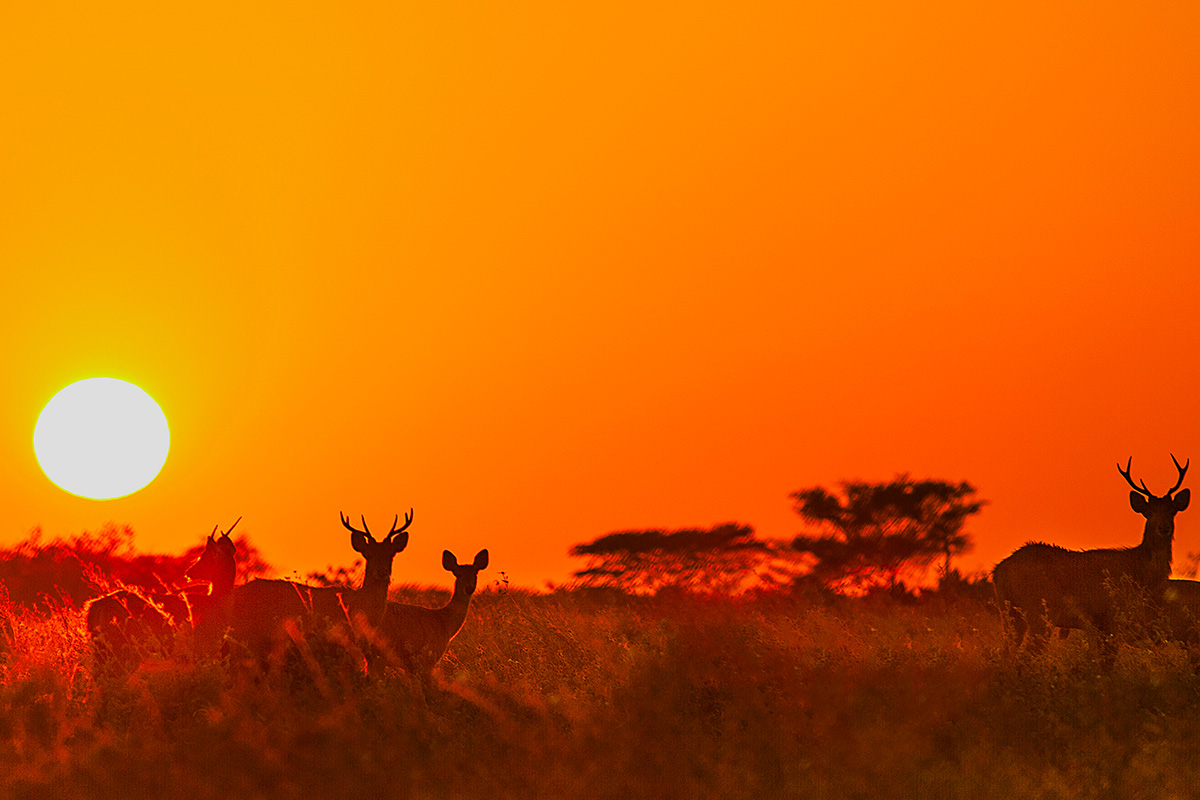 Baluran National Park, Banyuwangi, East Java
Basic Information
Baluran National Park located at the border between Banyuwangi and Situbondo Regency. Covering 250 sq km, the Park forms part of the district of Situbondo, in the province of East Java, comprising lowland forests, mangrove forests and 40% swathes of fertile savannahs, they provide abundant food for the animals. Here also are many typical Java trees like the Java tamarind and the pecan nut trees.
Baluran National Park boasts 444 species of trees, some unique to the area like the widoro bukol (
Ziziphus rotundifolia
), mimba (
Azadirachta indica
), and pilang (
Acacia leucophloea
). These plants are able to adapt to dry conditions when others have long wilted. Other trees also remaining green are the candle trees or kemiri (
Aleurites moluccana
), gebang (
Corypha utan
), api-api (
Avicennia sp.
), the tamarind tree (
Tamarindus indica
), gadung (
Dioscorea hispida
), kendal (
Cordia obliqua
), manting (
Syzygium polyanthum
), and kepuh (
Sterculia foetida
).
Is Hiring 4x4 Jeep Necessarry?
Few years ago the road to the national park was terrible, very muddy on the rainy so that hiring 4x4 jeep used to highly recommended. Nowadays the road to the park was completely good, you do not need 4x4 jeep anymore. Even you can go to the park by regular passenger car, locals mostly go by motorbike or scooter.
What To See
There are many spots to be explored in Baluran National Park, from evergreen forest, African like savanna, and endemic animals such Javanese Bulls, Peacock, and many more. Getting further to the park visitors could enjoy clean water of Bama Beach and do mangrove trail, if you are lucky you can see some local birds jumping and chirping around the mangrove trees.
When We Get There ?
Visitors who are more interested in the Savanna panorama can visit during the dry season. Precisely from May to October. Meanwhile, for visitors who are more interested in seeing how beautiful flowers bloom during the rainy season, it is best to visit this National Park from November to April.
Ideal time to visit Baluran National Park in the afternoon around 01.00 PM departing from Banyuwangi. It is a perfect timing to see the animal during the sunset. Area you a big fan of sunrise?...staying one night in the park is highly recommended. The park entrance only started to be opened at 07.00 AM, so that you need to stay inside the park.
Where To Stay
The only accommodation which located inside the park is managed by the Baluran National Park. There are two different lodges location, if you want to see the sunrise with savanna landscape it is better to stay in Wisma Rusa. Another option to stay in Wisma Kapidida which located in front of Bama Beach, it is highly recommended for visitors who want to enjoy morning sun rise at the beach.
Wisma Rusa located in front of Savana Bekol
Also noted that electricity is reportedly only available from 17.00 WIB to 23.00 WIB. However, solar cell lights have been provided in the guest room of the guesthouse so that there is still light while you stay there. For those who bring gadgets and want to charge them, they can stay at the office or guard post or in the cafeteria. The cafetaria has limited food option, buy more foods/snacks at supermarket before going to Baluran is better.
How To Get There
To reach the Baluran National Park from Surabaya, capital of East Java, traveling overland takes around 6 hours. Baluran is located partly in the district of Situbondo and partly in the district of Banyuwangi. The Park covers a total area of 22,500 hectares comprising coastal forests and grassland and is protected by three mountains, namely Mt. Baluran, Mt. Merapi (not to be confused with Mt. Merapi near Yogyakarta) and the Ijen volcano.
From Surabaya driving via the northern coastal road east you will pass the towns of Pasuruan, Probolinggo, and Situbondo. After Banyuputih, the road turns south. Do not take the road further east to the village of Bilik. Before you reach the village of Wongsorejo turn left and you will see the sign: Visitor Center. This is the entrance gate to Baluran Park. Alternatively, you can also drive from Sitobondo to Bangandengan. Some 60 km distance. The Baluran National Park is in fact on the highway connecting Surabaya with the city of Banyuwangi from where ferries take cars and passengers to Bali's west coast. So that Baluran is also easily accessible from Bali.
Now that Garuda and Wings Air also fly daily to Banyuwangi from Surabaya and Denpasar, Bali, you can take the short route from Banyuwangi to Batangan some 35 km away, and then on to Bekol which is 12 km from here and takes around 45 minutes. Within Baluran National Park you can drive through the Park to Bekol, The road takes two cars in opposite directions. Although the road is asphalted it is best to use SUV cars. From the entrance to the Bekol-Bama savannah is about 15 km. Around Bekol and Bama are trails for tourists and students.